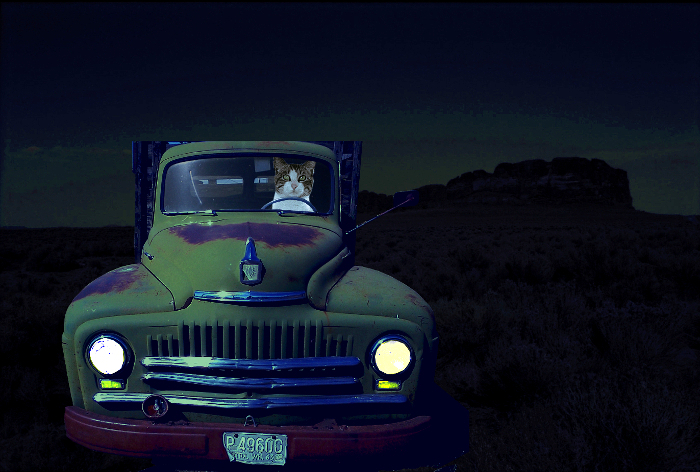 Pacific Rim Used Books
PO Box 565
Anacortes, Washington 98221 USA
Telephone: 360-293-7824
Ordering Instructions
E-Mail
---


Pacific Rim Used Books started selling books on the internet in 1995 as a part of "The Business" a "bricks and mortar" store in Anacortes, WA.



Thanks to all our customers who have made 20 plus years of internet book selling worthwhile.

Glen Des Jardins



---
Last modified September 4, 2021
Browse the mostly non-fiction books by the author and title with picture and description
A through b , C through D , E through G , H through J , K through L , M through N , O through R , S authors , T through Z

Catalogs
---
Pacific Rim Countries
Australia
China
Guam
India
Indonesia
Japan
Korea
New Guinea
New Zealand
Philippines
Taiwan
Vietnam
---
The Pacific Northwest
Washington State
Oregon
Idaho
Alaska
---
Other States
Arizona
California
Hawaii
Montana
Nebraska
Nevada
Texas
Wyoming
---
Countries
Africa
Canada
Middle East
South America
---
Accordion
---
Agriculture and Farming
---
Airstream Trailers
---
Recreation Vehicles
RVs' Trailers, Campers & Motorhomes
RV's and Recreation Vehicles
---
Americana
---
Architecture
---
Autographs
---
Automotive
---
Aviation and Aerospace
Aviation
---
Bibles and Bible Commentaries
---
Bibliophile
---
Book Dealer Catalogs
---
Cookbooks, Cookery
---
Business and Corporate History
Corporate History
---
Ephemera
Papers, Autographs, Magazines,
Music, Old Photos & More
Ephemera
---
Freemasonry
---
Genealogy
---
Horses, everything Equine
---
The Holocaust
Holocaust
---
Humor
---
Law and Lawyers
---
Medicine and Healthcare
---
Mining
---
Juvenile Literature, Kids Books
---
Movies, Cinema, Personalities and History
---
Music, Personalities and History
---
Native American, First Nation
Native American
---
Philately - Stamp Collecting
---
Photography
---
Poetry
---
Prisoners of War
POW
---
Books and the Print Media
Authors, Newspapers, Columnists
Books about Books
Print Media
---
Railroads and Railroading
Railroad
---
Religion and Missionaries
All Religion
Baptist
Buddhism
Catholicism
Methodists
Missionaries
Mormon
Theosophy
---
Submarine Warfare
Submarines
---
Masters and Doctoral Theses
---
Theater and More
---
Trade Catalogs
Industrial, Engineering, Hardware,
Mining and more...
Trade Catalogs
---
United States Marine Corps
USMC
---
United States Navy
USN
---
World War II
WW2
---
Yearbooks - Highschool, College and others
Yearbooks
Adopt an Ancestor?


14481 Taylor, G. Morris, Real picture Postcard of Native Woman, Jasper, Alberta Self-published Paperback 1 Very good Postcard, RPPC, of Native woman in furs. Jasper, Alberta Photo, Native American, First Nation, Jasper, Alberta, Canada, ephemera $20



---
13486 Anon Nine 1920s Real Picture Postcards From Western Montana, 1920s.
Nine 3.5 x 5 inch real picture postcards from Western Montana. Seven cards have writing on the back. Stark, Montana School House, Tom Lewis's house, Milwaukee train wreck at Huson, Lewis & Finafrack, Pete Thompson Place, Zentner Kids (had scarlet fever) old man Finafrock. Montana, Stark Mountain, Huson, Finafrack, Zentner, photography, ephemera $30
---

14523 Ford, photographer, Aunt Veva and Aunt Ava Hamilton, Twins 1910 Paperback 1 Fair to good. One corner is creased. 3 x 4 inch sepia picture on a 4.5 x 5.5 mount of twins Veva and Ava Hamilton. Documentation on the back. Photo $20
---

14721 Calvert, Cal, 8 x 10 b&w photo of a lady, Cal Calvert circa 1920s Paperback 1 Good. A little staining along the very top edge of the picture. An 8 x 10 b&w studio shot of a young lady, circa the 1920s. Calvert was a photographer working mostly in Portland, Oregon, in the early 1920s. Photography, Cal Calvert, Portland, Oregon $20
---

16026 F. Borgia, Photographer, F. Borgia, Three Portraits from 1890s Los Angles F. Borgia 1890s Good. Very light soiling and wear. The images are 3.5x 5 inches. Two portraits are mounted on 9x6 inch cards, one is 9x7 inches. The images are 3.5x 5 inches. Lovely photography, Italian American? subjects, in the 1890s. 674 San Fernando St., Los Angeles, California. (aaap) Photography, F. Borgia, California, ephemera $100
New Arrivals and Featured Items
Restaurant Menus 1940-1960
British Columbia, Canada
The Abbe De Lamennais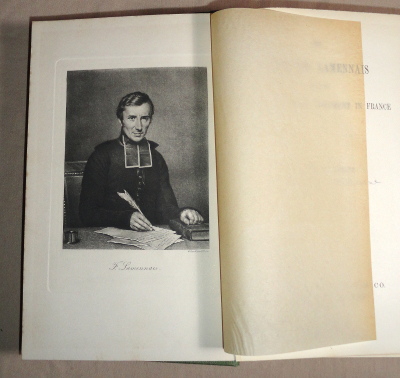 ---
15942 Gibson, Ho. W., The Abbe De Lamennais And The Liberal Catholic Movement In France Longmans, Green, And Co. 1896, Hardback with 346 pages. Good. Wear on the spine edges and covers. Back cover has some scrape marks. Both hinges show cracking but are holding nicely. Owner's name in ink. Some penciling.

A biography of the Abbe De Lamennais and a history of the Liberal Catholic Movement In France. Tipped inside the front cover is a lovely signed note from Lamennais in 1842 in which he serves as an intermediary between a Mademoiselle Michel and famous French poet Pierre-Jean de Beranger. The envelope is tipped in as well. Abbe De Lamennais, Autograph, Catholicism, Catholic $500
---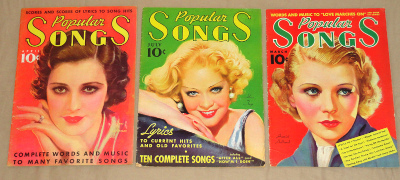 Popular Songs, Three Issues, 1935, 1936 & 1937
15801 Gilbert, Richard B. Popular Songs, Three Issues, 1935, 1936 & 1937 Good condition with light shelf wear and soiling. The 1935 issue has staining on the back cover. Minor chipping on the page edges Volume 1, no. 8, 1935, volume 2, no. 2, 1936, volume 3, no 3, 1937, Jane Froman, Alice Faye, & Harriet Hilliard on the covers. Music and articles. Music. $20
---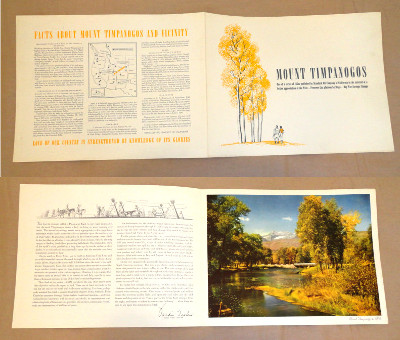 Mt Timpanogos, Utah, 1942 Standard Oil Promotional with Legend by Vardis Fisher
15792 Fisher, Vardis Mount Timpanogos, Standard Oil Company 1942. Very good. 13 x 10 inches, one of a series of folios published by Standard Oil Company.' Text by Vardis Fisher with a facing page color picture of Moount Timpanogos. Standard Oil Company, Mt. Timpanogos, Utah, ephemera $20
---
Ralph Grossman's
New Bohemian Cafe, 7th and Bell, Seattle Washington
Guest Register - 1946-1948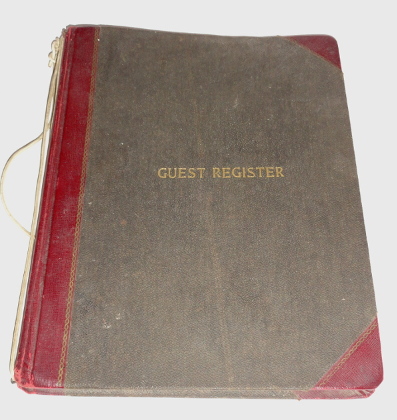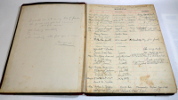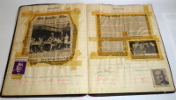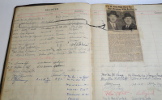 15724 Grossman, Ralph. Guest Register for The New Bohemnian Cafe in Seattle 1946 - 1948
A Hardback with 70 pages. Fair condition. Worn, soiled, some tears, old tape yellowing, etc. 10 x 14 inches, signatures,
addresses and comments by movers and shakers in Seattle in the mid 1940s and many other folks - rich, famous and otherwise.
Includes a letter from a friend at the Waldorf - Astoria and an 8 x 10 of a 1940's Lincoln at the restaurant.

Grossman helped found the Seattle Seafair and was involved in many other civic projects. $100
---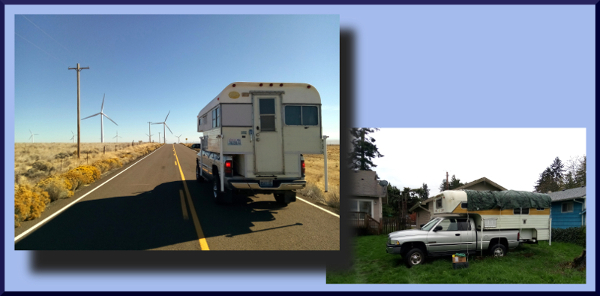 Rebuilding a 1969 Chinook Camper
"A Joy Forever, RA"
---
For more titles and ephemera visit our Automotive Page.
---
Books and ephemera on The Grand Coulee Dam Construction
---
Korea - Japan photo album, circa 1950s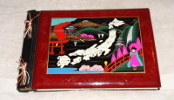 15236 Korea - Japan Photo Album, cira 19500s 15.5 x 10.5 inches, black pages with tissue guards. There are a total of ten 8 x 10 inch b&w photos, some mounted with photo corners. Two are duplicates. One photo is of Mt. Fuji, there's a picture of the inside of a bus or street car, a farming scene, a delightful picture of two girls with an improvised teeter totter, one of the "San Francisco Beer Hall (in Korea) " and a harbor scene in Stockton, CA.
The photographer was a USN Aviation Ordanceman with Patrol Squadron 871 (VP 871) The back of the teeter totter picture is labeled "Korea Playground" with technical photo information and Kimpo Airfield is mentioned as the location. The album is in good condition. Some of the photo corners are loose and some of the tissue guards are creased. Other tissue guards are torn, creased or missing parts. The front and back inside paste-downs have wrinkles. $75
---
Pan American World Airways Round The World Flight Log, 1951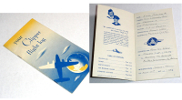 15197 Pan American World Airways, Your Clipper Flight Log, 1951 Paperback, 24 pages In good condition with light shelf wear. 4.25 x 8 inches, the record of a Round The World flight in 1951 by Bernard M. Kunes, retired Lehigh Valley Railroad Conductor. Left from Inglewood California on January the 7th and returned from Formosa and Hawaii on March 12th. Approximately 24 flights. All are mentioned with aircraft involved noted as well as the weather. Aviation, ephemera, Boeing Stratocruiser, Pan American Airways, PAA
Two months of travel time in several plane types. The DC-3, DC-4, the Lockheed Constellation and the Boeing Stratocruiser. The January 8th Stratocruiser flight from New York to Shannon, Ireland via Gander Newfoundland lasted 20? hours "...The last 4 1/2 hours on 3 engines - 110 MPH Tailwind prevented returning to Gander." Shannon - Dark, Foggy, Sprinkles.... $45



---
Books In Dutch
The Patria Series of Dutch Cultural History & other titles
Books in Dutch, The Patria Series
---