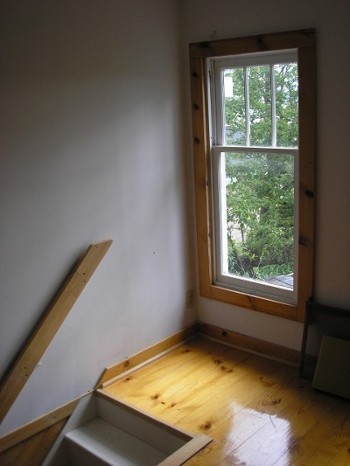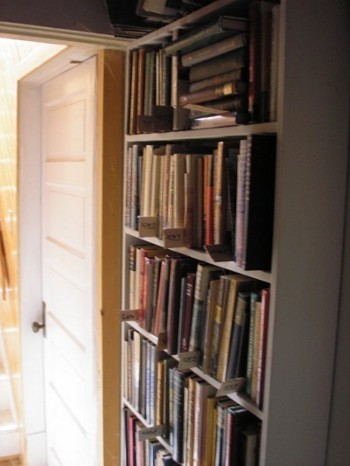 Pacific Rim Used Books
PO Box 565
Anacortes, Washington 98221 USA
Telephone: 360-293-7824
Ordering Instructions
E-Mail
---


Pacific Rim Used Books started selling books on the internet in 1995 as a part of "The Business" a "bricks and mortar" store in Anacortes, WA.

Thanks to all our customers who have made 20 years of internet book selling worthwhile.

Glen Des Jardins



---
Last modified April 8, 2018
Browse the mostly non-fiction books by the author and title with picture and description
A through b , C through D , E through G , H through J , K through L , M through N , O through R , S authors , T through Z

Catalogs
---
Pacific Rim Countries
Australia
China
Guam
India
Indonesia
Japan
Korea
New Guinea
New Zealand
Philippines
Taiwan
Vietnam
---
The Pacific Northwest
Washington State
Oregon
Idaho
Alaska
---
Other States
Arizona
California
Hawaii
Montana
Nebraska
Nevada
Texas
Wyoming
---
Countries
Africa
Canada
Middle East
South America
---
Agriculture and Farming
---
Airstream Trailers
---
Airstream & Other Trailers
RVs' Campers, "Motor Camping"
Airstream & other Recreation Vehicles
---
Americana
---
Architecture
---
Autographs
---
Automotive
---
Aviation and Aerospace
Aviation
---
Bibles and Bible Commentaries
---
Bibliophile
---
Business and Corporate History
Corporate History
---
Ephemera
Papers, Autographs, Magazines,
Music, Old Photos & More
Ephemera
---
Freemasonry
---
Genealogy
---
The Holocaust
Holocaust
---
Humor
---
Law and Lawyers
---
Mining
---
Juvenile Literature, Kids Books
---
Movies, Cinema, Personalities and History
---
Music, Personalities and History
---
Native American, First Nation
Native American
---
Philately - Stamp Collecting
---
Photography
Photography
---
Prisoners of War
POW
---
Books and the Print Media
Authors, Newspapers, Columnists
Books about Books
Print Media
---
Railroads and Railroading
Railroad
---
Religion and Missionaries
All Religion
Baptist
Buddhism
Catholicism
Jehova's Witness
Methodists
Missionaries
Mormon
Theosophy
---
Submarine Warfare
Submarines
---
Masters and Doctoral Theses
---
Theater and More
---
Trade Catalogs
Industrial, Engineering, Hardware,
Mining and more...
Trade Catalogs
---
United States Marine Corps
USMC
---
United States Navy
USN
---
World War II
WW2
---
Yearbooks - Highschool, College and others
Yearbooks
New Arrivals and Featured Items
---
Airstream Trailers, books and literature
Airstream Trailers
---
14584 Arnold, Tillie, with William L. Smallwood The Idaho Hemingway Beacon Books First edition Signed by the author. (Smallwood). Very good. Front cover has a short crease mark. 8.5 x 11 inches with many b&w photos and an index. $100



---
14590 Lowery, Gregg & Phillip Robinson, Vintage Gardens: Book of Roses Self-published 2006 360 pages Good. 8.5 x 11 inches, a book of vintage roses with descriptions and photos. An errata sheet is present. Roses, Flowers $50



---

14593 Meyers, Stuart John, American Bicyclist and Motorcyclist 100th Anniversary Issue American Bicyclist and Motorcyclist, 1979 Paperback. Good .Address label, soiling and some wear on the covers. 8.5 x 11 inches with many illustrations, articles, history and ads on bicycles and cycling$20



---

14612 Driftmier, Leanna Field, Kitchen Klatter Magazine, 105 issues, a broken run from 1963-1979 Self-published Paperback . Homey articles on various subjects including food, gardening, and social activities. 1967, 1968, 1971, 1972, 1978 and 1979 are complete years. Kitchen Klatter Magazine, Iowa $40


---
14614 Pasqual, Reginal T., Governor, Pueblo of Acoma, The Pottery of Acoma Pueblo 1992 r. Paperback, 156 pages. Good. Light shelf wear. 8.5 x 11 inches, a color catelog of pottery from the Acoma Pueblo. $25



---

14617 Kennedy, Bruce Lee, Safari Koa Chui, Very good. A record of a Safari in Kenya and Tanganykia, Africa in 1960. There are illustrations byLowell Hanson $50



---

14631 Riley, D. L., editor, USS America 1976 Don't Tread On Me Public Affairs Office, hardback. Very good. Light shelf wear and soiling on the covers. Ink writing inside the front cover.9 x 12 inches, the 1976 Med Cruise of the aircraft carrier USS America, CV-66. There are many b&w photos $100



---
Moore-McCormack Lines S.S. Uruguay, ex S.S. California, Photo Album circa 1941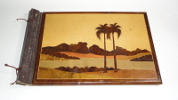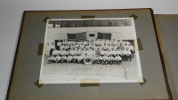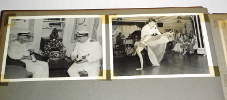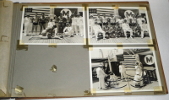 14410 S.S. Uruguay Photo Album Circa 1941 in fair condition. The marquetry front cover has some wear and scratches. The back cover is more extensively scraped and scratched. Pictures are attached with browning scotch tape. 14 x 10 inch marquetry, a tropical scene, photo album with 1 8x10, 18 5x7s and 4 smaller pictures of life on board the S.S. Uruguay. One hand drawn pencil sketch of a steward's meeting. There's a group photo of the stewards with a National Maritime Union of America flag. (It has has a 2 inch tear.) S.S. Uruguay, National Maritime Union, ephemera. $75
---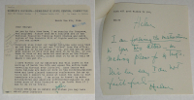 14238 Douglas, Helen Gahagan Letter to George Outland on Women's Division-Democratic State Central Committee letterhead, 1944Ephemera, 6.5 x 7 inch 2 page letter to Congressman George Outland saying she's running for office (US House of Representatives,) asking for publications and other news. Helen Gahagan Douglas, California, Autograph, ephemera $100


---

14230 Douglas, Helen Gahagan To the Farmers of California, campaign brochureEphemera, Good 3.5 x 8.25 inch senatorial campaign brochure addressed to California farmers. She contrasts her voting record with Richard Nixon. Politics, Helen Gahagan Douglas, Richard Nixon, California, ephemera $30


---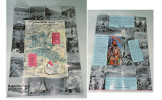 14187 Yakima Chamber of Commerce Yakima Chamber of Commerce 1949 Paperback, Good. Light shelf wear. 16 x 21.5 inches, 5 fold brochure on the Yakima, Washington valley with many b&w photos, a map and a color cover picture of a Native American lady in beadwork. Pacific Northwest, Washington State, Yakima, beadwork, Native American $25


---
A History of Sprague, Washington, 1900 to 1917
as revealed by a Fire Association of Philadelphia Insurance Policy Register Book



14273 A seventeen year history, 1900 to 1917, of an eastern Washington State town, Sprague, in Lincoln County, as revealed by insurance policies. Sprague was founded in 1883 and became an important stop on the Northern Pacific Railroad.
The first few pages of this book are an alphatibetical list of customers keyed to a page number associated with a copy of the policy and other information. There are 172 pages with policy holder information and customer signatures on a left-hand page and pasted in copies of policies to the right. The first policies are issued in January of 1899, the last in 1917. George F. Holland is the first agent. In 1902 C. W. McCoy becomes the agent. In 1905 Damrell & Pettijohn become agent/owners. Smalley & McCroskey follow, J. F. Hall and Hall & Smalley are the last listed agents.
Contents and inventories of homes, businesses and farms are listed. There are interesting "riders" on the use and storage of kerosene, gas and gunpowder.
11 x 16.5 inches., 8.5 lbs, in poor to fair condition. The front cover is partially detached. One half of the spine is missing. Both covers are soiled, worn and stained. The contents are occasionally stained and worn, about what you would expect of a ledger in regular use for that many years.
$175
---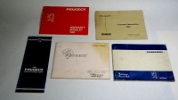 14097 Peugeot, Peugeot 504 Diesel Station Wagon Owner's Manual Peugeot 1981 Paperback with 61 pages. Fair to good. Covers are both worn and soiled. Contents have some soiling and crinkling. Peugeot Owner's Manual for a 1981-2? 504 Diesel Station Wagon. Also included isa 1982 Peugeot dealer Directory, a 1982 warranty booklet, the Turbodiesel Maintenancee Record Book in a used condition and a separate sheet on tire reserve loads for automatic and manual transmissions for the 505 Automotive, Peugeot diesel $25



---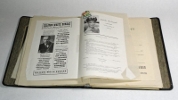 14103 Anon., Music, Opera and Theatre, 1940s, In Seattle, Washington and Oregon, a Scrapbook Self-published in the 1940s. In good condition. A fascinating collection of programs, playbills, ticket stubs, newspaper articles and more, of the arts in the 40s in the Pacific Northwest. In a 9 x 11 inch 3 ring binder. Theatre, music, Washington, Oregon, ephemera $20


---
Books & Ephemera on The Theatre, Dance, Opera and Theatre Organs
Theatre & More
---
Books In Dutch
The Patria Series of Dutch Cultural History & other titles
Books in Dutch, The Patria Series
---