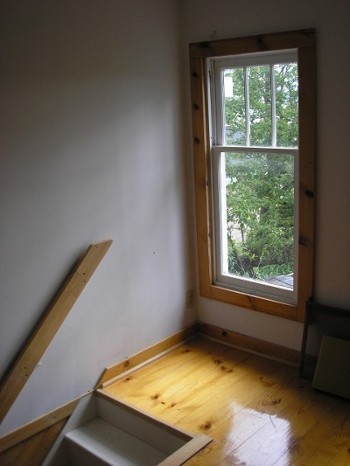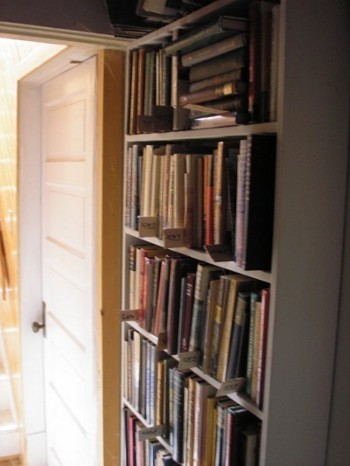 Pacific Rim Used Books
PO Box 565
Anacortes, Washington 98221 USA
Telephone: 360-293-7824
Ordering Instructions
E-Mail
---


Pacific Rim Used Books started selling books on the internet in 1995 as a part of "The Business" a "bricks and mortar" store in Anacortes, WA.

Thanks to all our customers who have made 20 years of internet book selling worthwhile.

Glen Des Jardins



---
Last modified February 15, 2017
Browse the mostly non-fiction books by the author and title with picture and description
A through b , C through D , E through G , H through J , K through L , M through N , O through R , S authors , T through Z

Catalogs
---
Pacific Rim Countries
Australia
Borneo
Burma
China
Guam
India
Indonesia
Japan
Korea
New Guinea
New Zealand
Philippines
Taiwan
Thailand
Vietnam
---
The Pacific Northwest
Washington State
Oregon
Idaho
Alaska
---
Other States
Arizona
California
Hawaii
Montana
Nebraska
Nevada
Texas
Wyoming
---
Countries
Africa
Canada
Middle East
South America
---
Agriculture and Farming
---
Airstream & Other Trailers
RVs' Campers, "Motor Camping"
Airstream
---
Americana
---
Architecture
---
Autographs
---
Automotive
---
Aviation and Aerospace
Aviation
---
Bibles and Bible Commentaries
---
Bibliophile
---
Business and Corporate History
Corporate History
---
Ephemera
Papers, Autographs, Magazines,
Music, Old Photos & More
Ephemera
---
Freemasonry
---
Genealogy
---
The Holocaust
Holocaust
---
Humor
---
Law and Lawyers
---
Mining
---
Juvenile Literature, Kids Books
---
Movies, Cinema, Personalities and History
---
Music, Personalities and History
---
Native American, First Nation
Native American
---
Philately - Stamp Collecting
---
Photography
Photography
---
Prisoners of War
POW
---
Books and the Print Media
Authors, Newspapers, Columnists
Books about Books
Print Media
---
Railroads and Railroading
Railroad
---
Religion and Missionaries
All Religion
Baptist
Buddhism
Catholicism
Jehova's Witness
Methodists
Missionaries
Mormon
Theosophy
---
Submarine Warfare
Submarines
---
Masters and Doctoral Theses
---
Theater and More
---
Trade Catalogs
Industrial, Engineering, Hardware,
Mining and more...
Trade Catalogs
---
United States Marine Corps
USMC
---
United States Navy
USN
---
World War II
WW2
---
Yearbooks - Highschool, College and others
Yearbooks
New Arrivals and Featured Items
---
14448 Anon Dreams and Omens and Tea Cup Fortune Telling I. & M. Ottenheimer, Publishers. Good. Faint soiling on the covers and browning pages. Dreams, Omens $30



---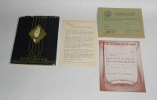 14456 Van Der Vliet, DS. P. Ch., Wij Doen Openbare Geloofsbelijdenis N.V. H. Ten Brink's, Circa 1945 Paperback with 63 pages Good. There are tears and some soiling on the paperback covers and the dust wrapper. In Dutch, A Dutch Reformed Church confession. There are two cards of confession with writing and dates in 1945 and another. Dutch Reformed Church $20



---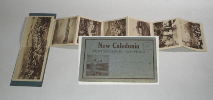 14457 Penfold, W. C., New Caledonia Photographic Souvenir, W.C. Penfold and Co. Circa 1940s Paperback. Good. Some wear and soiling and a short tear on the back cover. A New Caledonia folding post card. There's a 4 x 10.5 fold-out image of Noumea on the left side and a 5 x 19 inch 5 fold, on both sides, images on the right - 12 images total. New Caledonia, ephemera $20



---
14475 De Besault, Lawrence, President Trujillo His Work And The Dominican Republic , The Washington Publishing Company 2nd edition, 1936 Hardback with 410 pages. Good. Faint wear on spine corners. Owner's name stamp on front end paper and title page. No dust wrapper. Trujillo of the Dominican Republic. There are many b&w photos. This copy has a tipped in card from the Legation of the Dominican Republic in Washington D.C. Trujillo, Dominican Republic. $25


---

14481 Taylor, G. Morris, Real picture Postcard of Native Woman, Jasper, Alberta Self-published Paperback . Very good Postcard, RPPC, of Native woman in furs. Jasper, Alberta Photo, Native American, First Nation, Jasper, Alberta, Canada, ephemera $20


---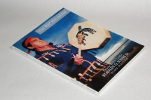 14488 Jones, Stanley G. , Sr., "Our Way" Hoy yud dud, Self -published 2010, Signed by the author. Paperback, 156 pages. Good. Light shelf wear. 8.5 x 11 inches, an autobiography of Stanley G. Jones Sr. 'Scho-Hallem', Tulalip Tribal Leader, with many color photos. First nation, Native American, Tulalip. $35



---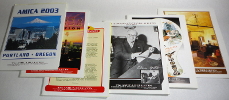 14489 Givens, Larry, editor, The AMICA Bulletin, 7 issues, 2003-5 Robin Pratt, 2003-5 , Very good. 8.5 x 11 inches with articles and ads on automatic musical instruments. Jan.-Feb. ' 03, Jan.-Feb. ' 04, May-June ' 04, July-Aug. ' 04, Sept. -Oct. ' 04, Jan.-Feb. ' 05, May-June ' 05. Music, AMICA, Automatic Musical Instrument $25



---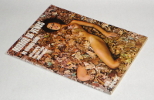 14492 Paine, Wingate, Mirror Of Venus Playboy Press 1972 Paperback. Good. Small chip out of the back cover. 8 x 11 inches, b&w erotica. Comments by Francoise Sagan and Feerico Fellini. Photography, erotica $20



---

14496 BMW X5 Sports Activity Vehicle Promotional VHS in original box Circa 2000 . Good. A VHS promotional tape in original packaging on the BMW X5 Sports Activity Vehicle. I didn't try the tape. Automotive, BMW, ephemera $20



---
14500 Muqiao, Xue, Editor-in Chief, Almanac Of China's Economy 1981 With Economic Statistics For 1949-1980 Ballinger Publishing Co. 1982 Hardback. Good. 10 pages have underlining and /or high lighting. The box shows some bumping and soiling. There's a removed label on the title page. China, economic history. $20



---
Moore-McCormack Lines S.S. Uruguay, ex S.S. California, Photo Album circa 1941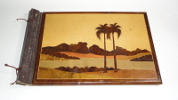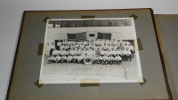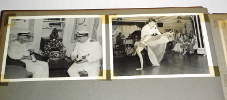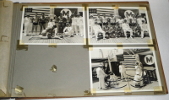 14410 S.S. Uruguay Photo Album Circa 1941 in fair condition. The marquetry front cover has some wear and scratches. The back cover is more extensively scraped and scratched. Pictures are attached with browning scotch tape. 14 x 10 inch marquetry, a tropical scene, photo album with 1 8x10, 18 5x7s and 4 smaller pictures of life on board the S.S. Uruguay. One hand drawn pencil sketch of a steward's meeting. There's a group photo of the stewards with a National Maritime Union of America flag. (It has has a 2 inch tear.) S.S. Uruguay, National Maritime Union, ephemera. $75
---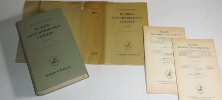 14230 Blessin, Dr. Georg, Hans Wilden and Hans-Georg Ehrig Bundesentschadigungsgesetze. Very good. In a good dust wrapper. The glassine wrapper cover has wear and tears. In German. The Federal Indemnification Law (BEG), specifically the federal law on compensation for victims of Nazi persecution. Also included are two separate booklets...24 pages from 1957 and 43 pages from 1959. Bundesentschadigungsgesetze, Nazi, WW2, Holocaust$100
---
14230 Paddock, Capt. B. B. A Twentieth Century History and Biographical Record of North And West Texas The Lewis Publishing Co. 1906, first edition Hardback , Fair condition. Volume 1 has water staining and 'wavy' pages, especially in the second half. Volume 2 is good. Sturdy but amateur re-binding. Texas biographies circa early 1900s. There are many b&w photos. $150



---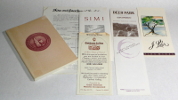 14230 Foster, Robert M., Director San Diego National Wine Competition Wine And Roses, 1985 Ephemera Paperback with 128 pages, Fair to good. 2 inch tear on the front cover spine. Both covers are worn and soiled. Back cover has a short tear. 1985 San Diego National Wine Competition with a list of prizes and participant wineries. Also included are 5 winery brochures and a two page list of Wine and Roses Special Wine Sale items with prices $20
---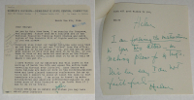 14238 Douglas, Helen Gahagan Letter to George Outland on Women's Division-Democratic State Central Committee letterhead, 1944Ephemera, 6.5 x 7 inch 2 page letter to Congressman George Outland saying she's running for office (US House of Representatives,) asking for publications and other news. Helen Gahagan Douglas, California, Autograph, ephemera $100


---

14230 Douglas, Helen Gahagan To the Farmers of California, campaign brochureEphemera, Good 3.5 x 8.25 inch senatorial campaign brochure addressed to California farmers. She contrasts her voting record with Richard Nixon. Politics, Helen Gahagan Douglas, Richard Nixon, California, ephemera $30


---

14180 Glasser, Marian S. Come Skate With Me Jean Stoneback Publishing Company 1985 Signed by the author Paperback 161 pages. Good. Light soiling on the covers. The newspaper article left a shadow on the back inside cover. Figure Skating, biographies of Billy Kipp, Tommy Litz and Gordie McKellen by their early trainer, Marian Glasser. There are many b&w photos and an inscription by the author to her relatives. Also included is a newspaper article about Glasser from 1985. Figure Skating $200

---

14181 Walco Bead Co. Walco Bead Co. Ephemera Walco Bead Co. 1937-49 Good. The woodcraft bead card has some discoloring, other items show light shelf wear and/or soiling. Three bead cards no. 25, 26 and 50. Wood Bead Craft Booklet No. 21, price list circa '47, invoice from '49 and a blank order form. Ephemera, Beading, Crafts, Walco Bead Co. $40


---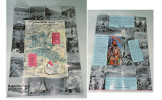 14187 Yakima Chamber of Commerce Yakima Chamber of Commerce 1949 Paperback, Good. Light shelf wear. 16 x 21.5 inches, 5 fold brochure on the Yakima, Washington valley with many b&w photos, a map and a color cover picture of a Native American lady in beadwork. Pacific Northwest, Washington State, Yakima, beadwork, Native American $25


---
14193 Comet Mobile Homes Comet Mobile Homes A Style & Size For You Comet Mobile Homes Circa 1960s Paperback , Good. Punched for 3-ring binder. 8.5 x 11 inches brochure from Comet Mobile Homes in Coffeyville, Kansas Recreation vehicle, ephemera, Comet Motor Homes $20


---
14207 Lincoln, Abraham and StephenA. Douglas Political Debates Between Hon. Abraham Lincoln and Hon. Stephen A. Douglas, In the Celebrated Campaign of 1858 Follett, Foster And Company First edition, 1860 Hardback 268 Good. Binding is worn and soiled. Spine lettering has faded. There is considerable brown spotting (foxing) on early pages especially. Lincoln - Douglas debates. This volume has 3 pages of ads in front. Abraham Lincoln, Stephen A. Douglas $100
---

14214 Tevis, C. V., and D. R. Marquis , The History Of The Fighting Fourteenth Self-published First Edition, 1911 Hardback 366 Very good. Very light shelf wear and bumping on the covers and spine. Faint spotting on the front edges of the pages. No dust wrapper. 7.75 x 10.75, The history of the Fighting Fourteenth in the Civil and first World War. There's a 105 page long War Roster of Fourteenth Regiment and many b&w photos. This copy is signed by Col. G. G. Hollander, a commander of the 14th, and presented to a Lieut. Wright. 14th regiment United States Army, Unit history, G. G. Hollander, Civil War $125
---
A History of Sprague, Washington, 1900 to 1917
as revealed by a Fire Association of Philadelphia Insurance Policy Register Book



14273 A seventeen year history, 1900 to 1917, of an eastern Washington State town, Sprague, in Lincoln County, as revealed by insurance policies. Sprague was founded in 1883 and became an important stop on the Northern Pacific Railroad.
The first few pages of this book are an alphatibetical list of customers keyed to a page number associated with a copy of the policy and other information. There are 172 pages with policy holder information and customer signatures on a left-hand page and pasted in copies of policies to the right. The first policies are issued in January of 1899, the last in 1917. George F. Holland is the first agent. In 1902 C. W. McCoy becomes the agent. In 1905 Damrell & Pettijohn become agent/owners. Smalley & McCroskey follow, J. F. Hall and Hall & Smalley are the last listed agents.
Contents and inventories of homes, businesses and farms are listed. There are interesting "riders" on the use and storage of kerosene, gas and gunpowder.
11 x 16.5 inches., 8.5 lbs, in poor to fair condition. The front cover is partially detached. One half of the spine is missing. Both covers are soiled, worn and stained. The contents are occasionally stained and worn, about what you would expect of a ledger in regular use for that many years.
$175
---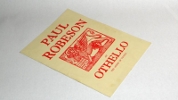 14059 Robeson, Paul, Paul Robeson as Othello The Moor of Venice Theatre Guild 1940s Paperback program in good condition. Light shelf wear, soiling and creasing on the covers. 8.5 x 11 inches , stapled souvenir program, with b&w photos. Paul Robeson, Theatre, Theater, Music, ephemera. $25



---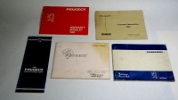 14097 Peugeot, Peugeot 504 Diesel Station Wagon Owner's Manual Peugeot 1981 Paperback with 61 pages. Fair to good. Covers are both worn and soiled. Contents have some soiling and crinkling. Peugeot Owner's Manual for a 1981-2? 504 Diesel Station Wagon. Also included isa 1982 Peugeot dealer Directory, a 1982 warranty booklet, the Turbodiesel Maintenancee Record Book in a used condition and a separate sheet on tire reserve loads for automatic and manual transmissions for the 505 Automotive, Peugeot diesel $25



---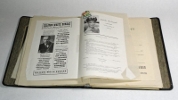 14103 Anon., Music, Opera and Theatre, 1940s, In Seattle, Washington and Oregon, a Scrapbook Self-published in the 1940s. In good condition. A fascinating collection of programs, playbills, ticket stubs, newspaper articles and more, of the arts in the 40s in the Pacific Northwest. In a 9 x 11 inch 3 ring binder. Theatre, music, Washington, Oregon, ephemera $20


---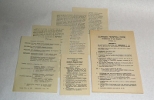 14092 Archdiocese Of Los Angeles, Catholic Hospital Code Archdiocese Of Los Angeles 1947 . Ink name on one page. Catholic Hospital Code from the Archdiocese of Los Angeles with a separate 'definitions of terms' page and two other pages. Catholic, medical, Los Angeles, California $20



---
14100 Harmon, The Reverend Kendall S., A Deeply Disturbing Document: A Comprehensive Critique of the Episcopal Church Curriculum Sexuality: A Divine Gift Self-published Circa 1980s, Paperback with 56 pages. Very good. Stapled booklet, Reverend Kendall S. Harmon's anti -LGBT response to a church document. Religion, Anglican, Episcopal, anti LGBT $25
---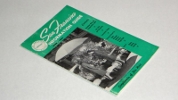 14086 Hotel Greeters Guide San Francisco Information Guide June 1947, Hotel Greeters Guide 1947 Paperback with 45 pages in good condition with light shelf wear. 5.25 x 8 inch stapled booklet with b&w photos, maps and interesting ads. Ephemera, San Francisco, California, tourist guide $20



---
Books & Ephemera on The Theatre, Dance, Opera and Theatre Organs
Theatre & More
---
Books In Dutch
The Patria Series of Dutch Cultural History & other titles
Books in Dutch, The Patria Series
---