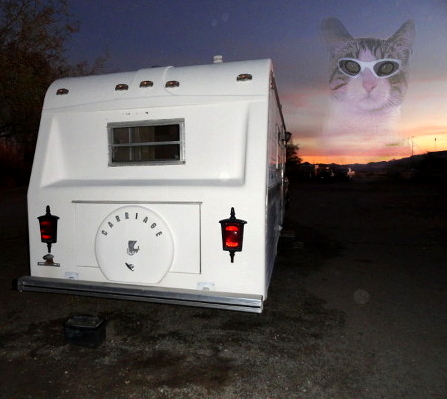 Pacific Rim Used Books
PO Box 565
Anacortes, Washington 98221 USA
Telephone: 360-293-7824
Ordering Instructions
E-Mail
---


Pacific Rim Used Books started selling books on the internet in 1995 as a part of "The Business" a "bricks and mortar" store in Anacortes, WA.



Thanks to all our customers who have made 20 plus years of internet book selling worthwhile.

Glen Des Jardins



---
Last modified July 3, 2019
Browse the mostly non-fiction books by the author and title with picture and description
A through b , C through D , E through G , H through J , K through L , M through N , O through R , S authors , T through Z

Catalogs
---
Pacific Rim Countries
Australia
China
Guam
India
Indonesia
Japan
Korea
New Guinea
New Zealand
Philippines
Taiwan
Vietnam
---
The Pacific Northwest
Washington State
Oregon
Idaho
Alaska
---
Other States
Arizona
California
Hawaii
Montana
Nebraska
Nevada
Texas
Wyoming
---
Countries
Africa
Canada
Middle East
South America
---
Agriculture and Farming
---
Airstream Trailers
---
Airstream & Other Trailers
RVs' Campers, "Motor Camping"
RV's and Recreation Vehicles
---
Americana
---
Architecture
---
Autographs
---
Automotive
---
Aviation and Aerospace
Aviation
---
Bibles and Bible Commentaries
---
Bibliophile
---
Business and Corporate History
Corporate History
---
Ephemera
Papers, Autographs, Magazines,
Music, Old Photos & More
Ephemera
---
Freemasonry
---
Genealogy
---
The Holocaust
Holocaust
---
Humor
---
Law and Lawyers
---
Medicine and Healthcare
---
Mining
---
Juvenile Literature, Kids Books
---
Movies, Cinema, Personalities and History
---
Music, Personalities and History
---
Native American, First Nation
Native American
---
Philately - Stamp Collecting
---
Photography
Photography
---
Prisoners of War
POW
---
Books and the Print Media
Authors, Newspapers, Columnists
Books about Books
Print Media
---
Railroads and Railroading
Railroad
---
Religion and Missionaries
All Religion
Baptist
Buddhism
Catholicism
Jehova's Witness
Methodists
Missionaries
Mormon
Theosophy
---
Submarine Warfare
Submarines
---
Masters and Doctoral Theses
---
Theater and More
---
Trade Catalogs
Industrial, Engineering, Hardware,
Mining and more...
Trade Catalogs
---
United States Marine Corps
USMC
---
United States Navy
USN
---
World War II
WW2
---
Yearbooks - Highschool, College and others
Yearbooks
New Arrivals and Featured Items
---
A new page of Medicine and Healthcare
---
A new page of books and ephemera on The Grand Coulee Dam Construction
---
15278 Warne's Zig-Zag Books Alpine Flowers and Plants 2: Frederick Warne & Co., Ltd. Paperback Good. Covers have shelf wear. Owner's name in ink on the front cover. Price sticker on the back - 3 x 6 inches with fold out photos of alpine flowers and plants. $20

---
15279 Epstein, Melvin L., 1st Lt. Story Of The 187th Engineer Combat Battalion 1945 Paperback 113 pages. Good. Slight soiling on the covers. Rusty staples. First page has very short tears by the staples. The 187th Engineer Combat Battalion in WW2. There are many b&w photos. WW2 unit history $75

---
15284 Morenus, Richard, Alaska Sourdough The Story of Slim Williams Rand McNally & Company 2nd printing Hardback, 278 pages. Good. The covers have some shelf wear especially on the edges. Ink name inside two times. In a poor taped together dustwrapper. The story of Slim Williams, Alaska Sourdough. There are b&w photos. $20

---
15290 Sinclair, Upton The Goslings A Study Of The American Schools Self-published 1924. Hardback with 454 pages. Good. A faded spot on the top of the spine. In a poor dust wrapper. Upton Sinclair's take on corrupt school systems in the early 1920s. There's an index and seven pages of ads for Sinclair's books. Fun illustrations by Art Young on the dust wrapper and a frontispiece. Education $20

---

15298 Arizona Yesterday Today And Tomorrow 1881 1955 1st National Bank Of Arizona 1956 Paperback with 30 pages. Good. Covers have some soiling and edgewear. 9 x 12 inch history of Arizona by the 1st National Bank of Arizona. There are many b&w photos and color illustrations Arizona, 1st National Bank of Arizona $20

---
A Five Volume Set From 1924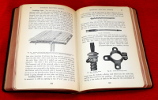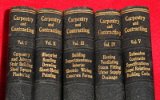 15256 Carpentry and Contracting, Five Volumes American Technical Society, 1924, limp leather covers. There are many b&w photos, line drawings and fold outs. Good condition with occasional wear, scuffing and short tears.$50
---
Montana Journal
A broken run from 1989 to 1996



15238 Haser, Michael Carl, Montana Journal, 20 Issues 11.5 x 17 inches with interesting historical articles and photos about early Montana. One issue from 1989, 5 from 1990, 5 from 1991, 2 from 1992, 3 from 1993, one each from 1994, 1995 and 1996. 15 to 20 pages each. They are in good contition with occasional short tears. $50
---
Korea - Japan photo album, circa 1950s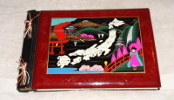 15236 Korea - Japan Photo Album, cira 19500s 15.5 x 10.5 inches, black pages with tissue guards. There are a total of ten 8 x 10 inch b&w photos, some mounted with photo corners. Two are duplicates. One photo is of Mt. Fuji, there's a picture of the inside of a bus or street car, a farming scene, a delightful picture of two girls with an improvised teeter totter, one of the "San Francisco Beer Hall (in Korea) " and a harbor scene in Stockton, CA.
The photographer was a USN Aviation Ordanceman with Patrol Squadron 871 (VP 871) The back of the teeter totter picture is labeled "Korea Playground" with technical photo information and Kimpo Airfield is mentioned as the location. The album is in good condition. Some of the photo corners are loose and some of the tissue guards are creased. Other tissue guards are torn, creased or missing parts. The front and back inside paste-downs have wrinkles. $75
---
Pan American World Airways Round The World Flight Log, 1951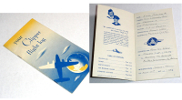 15197 Pan American World Airways, Your Clipper Flight Log, 1951 Paperback, 24 pages In good condition with light shelf wear. 4.25 x 8 inches, the record of a Round The World flight in 1951 by Bernard M. Kunes, retired Lehigh Valley Railroad Conductor. Left from Inglewood California on January the 7th and returned from Formosa and Hawaii on March 12th. Approximately 24 flights. All are mentioned with aircraft involved noted as well as the weather. Aviation, ephemera, Boeing Stratocruiser, Pan American Airways, PAA
Two months of travel time in several plane types. The DC-3, DC-4, the Lockheed Constellation and the Boeing Stratocruiser. The January 8th Stratocruiser flight from New York to Shannon, Ireland via Gander Newfoundland lasted 20? hours "...The last 4 1/2 hours on 3 engines - 110 MPH Tailwind prevented returning to Gander." Shannon - Dark, Foggy, Sprinkles.... $45

---
15113 Only The Mountains Remain, Bowman, Nora Linjer , Caxton , 1958 first edition hardback with 322 pages. Very good. In a good dust wrapper with some short tears. Ranching in NE Nevada in the 1920s by the Utah Construction Company. There are b&w photos and maps. Nevada, Utah Construction Company $200



---
Moore-McCormack Lines S.S. Uruguay, ex S.S. California, Photo Album circa 1941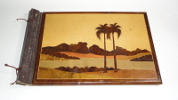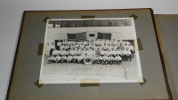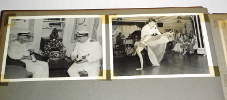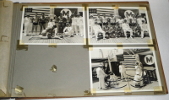 14410 S.S. Uruguay Photo Album Circa 1941 in fair condition. The marquetry front cover has some wear and scratches. The back cover is more extensively scraped and scratched. Pictures are attached with browning scotch tape. 14 x 10 inch marquetry, a tropical scene, photo album with 1 8x10, 18 5x7s and 4 smaller pictures of life on board the S.S. Uruguay. One hand drawn pencil sketch of a steward's meeting. There's a group photo of the stewards with a National Maritime Union of America flag. (It has has a 2 inch tear.) S.S. Uruguay, National Maritime Union, ephemera. $75
---
A History of Sprague, Washington, 1900 to 1917
as revealed by a Fire Association of Philadelphia Insurance Policy Register Book



14273 A seventeen year history, 1900 to 1917, of an eastern Washington State town, Sprague, in Lincoln County, as revealed by insurance policies. Sprague was founded in 1883 and became an important stop on the Northern Pacific Railroad.
The first few pages of this book are an alphatibetical list of customers keyed to a page number associated with a copy of the policy and other information. There are 172 pages with policy holder information and customer signatures on a left-hand page and pasted in copies of policies to the right. The first policies are issued in January of 1899, the last in 1917. George F. Holland is the first agent. In 1902 C. W. McCoy becomes the agent. In 1905 Damrell & Pettijohn become agent/owners. Smalley & McCroskey follow, J. F. Hall and Hall & Smalley are the last listed agents.
Contents and inventories of homes, businesses and farms are listed. There are interesting "riders" on the use and storage of kerosene, gas and gunpowder.
11 x 16.5 inches., 8.5 lbs, in poor to fair condition. The front cover is partially detached. One half of the spine is missing. Both covers are soiled, worn and stained. The contents are occasionally stained and worn, about what you would expect of a ledger in regular use for that many years.
$175
---
Books & Ephemera on The Theatre, Dance, Opera and Theatre Organs
Theatre & More
---
Books In Dutch
The Patria Series of Dutch Cultural History & other titles
Books in Dutch, The Patria Series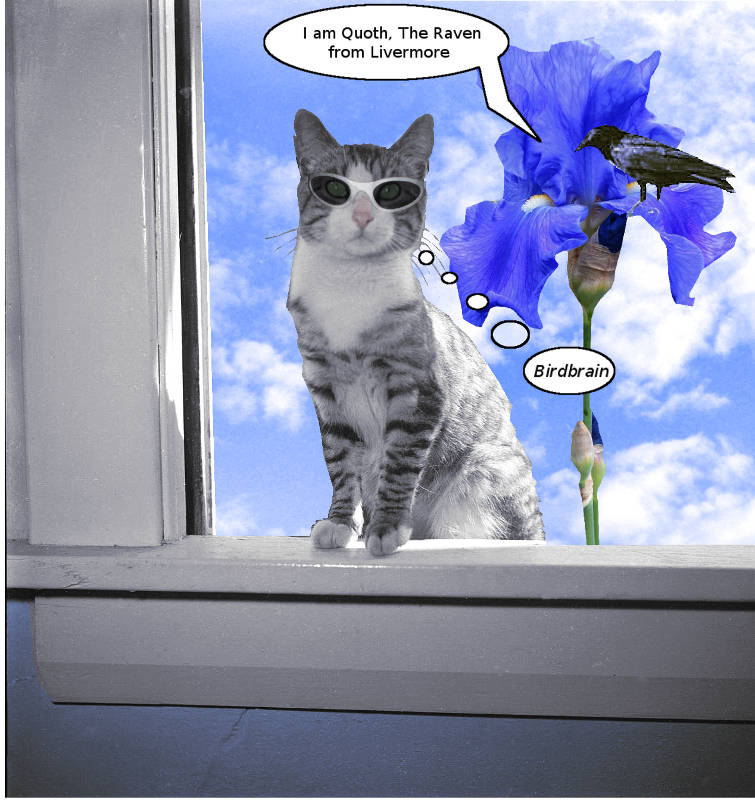 ---